(Inter)acting with the Inner Partner
A solo improvisation Discipline
translated from the Czech "dialogické jednání s vnitřím partnerem"
What is (Inter)acting with the Inner Partner?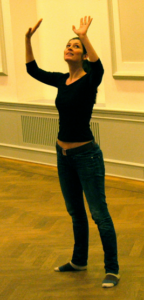 (Inter)acting with the Inner Partner (IwIP) – previously called Acting with the Inner Partner (AwIP) – is a contemporary movement/action-based open solo  improvisational practice. It  explores the nature of dialogues in and around us. It is a guided process of coming to know yourself by relating to your inner partners in public. IwIP offers a holistic (psychosomatic) path of studying and practicing the basic principles and dynamics of creative communication and dramatic play.
What does it mean to be and (inter)act dramatically, playfully and spontaneously in a performance situation? Through IwIP, you study and practice these and related questions and how they relate to a number of core values and dynamics like dialogue, partnership, conductive empathy, freedom, vital energy, dramatic play, and authorship with a trained teacher in class.  You reflect on your experiences through written reflections on your own (with your inner partners).
In its broadest sense, IwIP is a path of self-discovery, self-understanding, self-acceptance, and self-realization.  In its more specific senses, IwIP becomes what you make of it.
What is (Inter)acting with the Inner Partner for?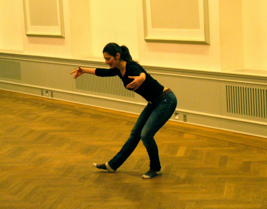 Generally speaking, (Inter)acting with the Inner Partner is for nothing. It is for nothing, until you discover that is for something and realize what that something is. In other words, it is about discovering "nothing," noticing and appreciating those "useless" aspects of who we are and what we do, and finding meaning in and through them. Ultimately, this is a very important and practical endeavor.
What you "do with" (Inter)acting with the Inner Partner – like enhance performance skills, explore new themes in your writing, develop characters or situations, apply it to your teaching, break through blocks – depends on your individual predispositions, talents, and interests. It depends on what questions interest you.
Rather than offering easy answers, IwIP challenges you to discover and pursue the different possibilities of creative and free existence on stage and off. Practicing IwIP, studying through it, involves learning to:
notice what you may have missed in your actions
identify and open locked and restricted impulses in your body and voice
tune into a sense of ease and presence in public
understand your limitations and see how you limit yourself
value and find meaning in aspects of yourself and the behavior you may have neglected
risk pursuing new paths (actions) that bring you meaning
play out (follow and support) your actions to their organic conclusion
hear, listen to and articulate your different inner partners
improvise situations
practice asking specific questions, giving responses, completing tasks, performing characters and situations, physicalizing texts
letting yourself be and do
connect your experience practicing on stage with your writing
(e.g., articulate on-stage discoveries through writing and vice-versa)
act spontaneously and consciously
play joyfully and freely
In other words, practicing the discipline cultivates creative communication by developing the "fitness" people need to be able to act spontaneously and to make conscious, empathetic decisions when (inter)acting with yourself and others. After a longer experience with the discipline, you develop your authorial personality (for example, as a performer, a writer, a teacher, a leader), learning how you discover, develop, and present personal themes through dramatic situations.
Who is (Inter)acting with the Inner Partner for?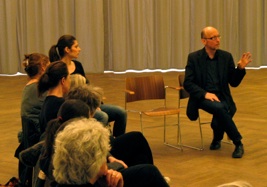 As a "dramatic" discipline, performers (actors, dancers, performance artists) and other theater/performance makers (directors, writers, dramaturges) tend to be particularly interested in the discipline. If you work in other fields (e.g., visual arts, architecture, information technology, science, philosophy) or "act," "do" and "perform" in front of others in your professional or every day life (teacher, social worker, doctor, lawyer), the discipline can contribute to your professional work and personal growth as well.
How do you practice (Inter)acting with the Inner Partner?
One IwIP course lasts between 8-16 practice sessions with 1-2 sessions per week. Courses are separated into beginning, for people who have no experience with the discipline, and continuing (advanced) groups, for those who have already gone through the introductory stage. Typically, a course consists of 1 session per week for 12 weeks. Each practice session lasts between 90-120 minutes. A practice session is led by one or two trained class leaders (teachers). They do not practice IwIP during any session they lead. There can be between 2-12 participants (not including the leaders) per session. The class leader (leaders) sits at the audience left end of the row of students, who sit in chairs in a straight line facing the practice space (the stage). A practitioner goes in the practice space (on stage) in front of an audience alone to discover and experience interactions (relationships) between his/her inner partners during short (1-5 minutes) rounds ("trials" or "attempts"). For the entirety of this improvisational practice, the practitioner is asked to maintain "public solitude" (Stanislavsky): By not contacting the audience directly a practitioner can pay attention to her actions and direct them towards her inner partner(s). She is also asked to remain on stage practicing until the class leader signals the end of her round with a "Thank you." (There are a few other basic practice conditions that are gradually introduced to practitioners.) The class leader gives the practitioner immediate feedback on her practice (reflections on what happened, how it happened, and suggestions on how she might proceed during the subsequent rounds). No one else gives feedback. This process repeats until all participants have completed a round of practice. Typically, there are between 2-4 rounds per session, often with a short break after the second round. Practitioners keep a written journal as a way of reflecting on their on-stage investigations. There are a number of possible modifications to the above "traditional" procedure.
Where does (Inter)acting with the Inner Partner come from?
(Inter)acting with the Inner Partner is the core discipline in a program in "authorial acting" at the Department of Authorial Creativity and Pedagogy at the Academy of Performing Arts in Prague (DAMU) where it is also taught to Erasmus students. IwIP workshops and course have been given internationally: Columbia University, Yale University, University of Colorado – Boulder, New York University, Rose Bruford College, Central School of Speech and Drama, Metropolia University of Applied Sciences, the Theatre Academy Helsinki, The Swedish Theatre in Helsinki.
IwIP was created and primarily developed by Professor Ivan Vyskočil, a celebrated and respected actor, writer, researcher, psychologist, and educator and one of the founders of Czech alternative theatre.  He was one of the most important protagonists of Czech absurd and small-forms theatre of the 1960s, and a collaborator of many of leading Czech contemporaries including Václav Havel.
Vyskočil has trained a number of teachers who continued to teach and explore the discipline.